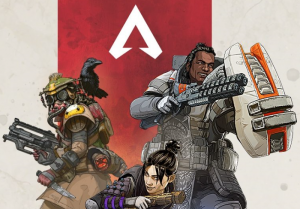 Apex Legends Combines the Best of Fortnite & Overwatch
On its way to market domination, Apex Legends from Electronic Arts is smashing records.
In case you don't know, Apex Legends is a battle royale-type game. Players can compete with up to 100 other gamers once dropped into a map in a last-man-standing format.
Apex is combining the best of both worlds
Here's the thing: Apex Legends is combining the key elements of esports giants: Fortnite, League of Legends and Overwatch.
Apex Legends
Apex legends was developed by Respawn Entertainment.   It is similar to Fortnite with its free to download and play format. Because of the free format, skins will be sold to make money.  Most importantly,  Apex allows players of varying skill levels to compete in teams of three.  This  provides the exclusivity of League of Legends and Overwatch.
According to Jake Seiner of the Associated Press, Apex Legend went after the existing battle royale audience. EA recruited Blevins and other famous gamers.  They asked them to put down Fortnite and stream Apex. Blevins alone has over 13 million followers on Twitch.  This immediately gave "Apex" a massive audience.
By the way, "Apex" had 25 million downloads in its first week 
That crushed the "Fortnite" mark of 10 million over its first two weeks. Because Apex Legends combines the Best of Fortnite & Overwatch, the esports world is watching closely.
Esports trends:
"I think 'Apex' has caught everybody by storm," said Andy Miller, CEO of NRG Esports. "Because they did a phenomenal job of getting the influencers to play it first, therefore feeding the market on Twitch and then watching everybody starting to play the game, and the game is good."
Six days after the launch, NRG announced it was recruiting "Apex" players.  This makes it the first organization to seek a pro for that title. Jaime Cohenca is the General Manager of the team.  He is leading the search, reviewing applications and Twitch streams.