Blizzcon 2018 World Cup Finals:  Three-peat for South Korea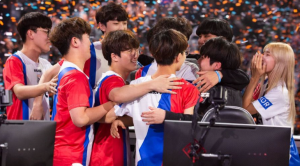 The Bulls, Lakers, Celtics and now you can add South Korea to the list of Three-peats as their dominance continued for a third straight year at the Blizzcon World Cup.
Not without some drama, however.  At one point during the semifinals,  the UK Team appeared primed for an upset.  But as was the case in 20016& 2017…no upset was to be had.
China made their way to the finals by defeating Team Canada. But, the moment the finals kicked off, it was the South Koreans that easily took a 1 -0 lead.  A lead they would never give up.
Actually, the South Koreans did not drop a single map at Blizzcon, with the UK Team managing two draws.