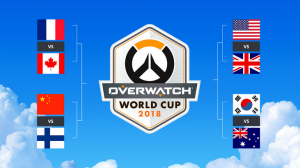 Elite Eight Set for Blizzcon Overwatch 2018 World Cup
Anaheim, California
Next week at the Anaheim Convention Center the Overwatch world will turn its collective focus to Blizzcon where the top 8 teams will battle it out for the gold medal.
Can South Korea defend their title?
Here's the deal.  They will face some strong competition in order to do so.  Team USA, for example, who swept their way through the Los Angeles Group Stage stands in the way along with the other top seeds China and France.  And, let's not overlook the other qualifiers: Australia, Finland, United Kingdom and Canada who are all eager to pull off an upset.
The quarterfinals, semifinals, and bronze-medal match will be a best-of-five format.  The Grand Final will be a best-of-seven contest.
How and When to Watch:
Friday, November 2nd: 
Quarterfinal 1:  United States vs. United Kingdom  12:15 pm  PDT
Quarterfinal 2:  France vs. Canada 2:15 pm PDT
Quarterfinal 3:  China vs. Finland  4:15 pm PDT
Quarterfinal 4:  South Korea vs. Australia  6:15 pm PDT
Saturday, November 3rd:
Semifinal 1 – 9:30 am PDT
Semifinal 1 – 11:30 am PDT
Bronze Medal Match:  1:30 pm PDT
Gold Medal Match 3:45 pm PDT
Livestreams: 
Twitch, YouTube, MLG, Naver
Broadcast:
ESPN 3 and Disney XD  (check local listings)