Fortnite Forces Price Reduction for Overwatch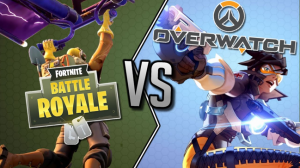 Popular free games like Fortnite have forced Blizzard to reduce the price of Overwatch.
After seeing sluggish growth to its player-base in 2018, Blizzard is reducing the cost of its most popular game, Overwatch.
Blizzard will reduce the original $39.99 price for the Standard Edition of Overwatch, to $19.99.
Feeling the heat from Fortnite & League of Legends
The reduction in game price is no doubt a reaction to the ever-increasing popularity of free games like Fortnite and League of Legends.  In 2018, Epic Games claimed to see profits of $3 billion from Fortnite alone.
According to Joe O'Brien, Blizzard hopes to entice previously unwilling players to pay for their two year-old game with the price cuts.
Blizzard will also be reducing the price of games such as World of Warcraft and Heroes of the Storm from $59.99 to $39.99 respectively.
Fortnite's momentum in esports shows no signs of slowing any time soon.
Overwatch's large and well organized player-base is apparent, however,  by the number of teams and  leagues across the globe.  And, SaaS-based sites such as BATTLEMAPS! that enable teams and players to geo-locate each other based on in-game player stats have come to market with Overwatch first.  This suggests that a strong demographic for esports still exists for Overwatch.  However, in a recent interview, Mike Jackson, mentioned the addition of Fortnite to BATTLEMAPS! in 2019.  "Fornite hits the full spectrum of esports from basic, casual gaming, to highly competitive leagues with hugh prize pools. Adding Fortnite to BATTLEMAPS! in 2019 is a no-brainer for us."
2019 is forecasted to be the first billion dollar year for the esports industry.  As the year unfolds, the industry titans will need to evolve to maintain their piece of the pie.  After all, it's just a game…until it's not.
The world is yours…start with your neighborhood!