Overwatch Announces 2019 Prize Pool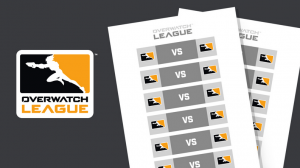 According to Michael Domanico, OWL will venture outside Blizzard's Burbank Arena for the first time during the regular season in 2019.  Tickets have not yet been released, but Dallas, Atlanta and LA will host home games.
Another notable change coming in 2019: the size of the prize pool.  Where 2018 saw a prize pool of $3.5 million, 2019 will be increased to $5 million.
Here's the thing:  Whether you're ready to believe it or not, esports leagues will soon be on par with traditional sports leagues like the NFL and the NBA.
Oh, and by the way…the NFL and the NBA already know it. 
In 2018, NBA Legend, Michael Jordan made a significant investment in Team Liquid.  Robert Kraft, the owner of the NFL's New England Patriots forked over $20 million to own the Boston-based team in Activision Blizzard's Overwatch League.
The season officially gets started February 14th and will be split into four 5-week stages.
The regular season is split up into four stages and kicks off February 14th.  Each stage will last five weeks.