Overwatch's Winter Wonderland launch date December 11th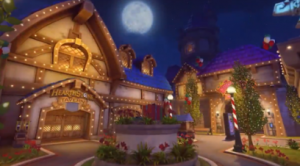 Overwatch developer Blizzard has given fans a look at another new skin.
Mercy is the next character to get a Christmas makeover, as Sugar Plum Mercy joins the battle.
You can see what Mercy's new skin looks like below.
ORIGINAL: Overwatch fans will soon be able to jump into the Winter Wonderland event for 2018.
The next Overwatch Christmas event has a December 11 launch date on PS4, Xbox One and PC.
This means that for the rest of December, fans will be able to unlock festive skins and items from Overwatch loot boxes.
And as we draw closer to the big event, Blizzard has started to unveil some of the new skins on offer.
It all began with a look at a new Legendary snowboarder skin for Zarya, which is described as "Pawsitively fursome".
Next up is Arctic Fox Lucio, which will also be available during the month of December.
The Overwatch Winter Wonderland also marks the return of one or two limited time modes.
Mei's Snowball Offensive is a 6v6 single elimination affair in which players fire snowballs at each other.
Then there's the Yeti Hunter mode, which pits five characters against one in asymetric multiplayer battles.
"The Yeti must gather meat to unlock a powerful rage ability adding immunity to freeze and more powerful bonuses," Blizzard explains.